Fire safety company Safelincs has won a contract with Metroline to maintain fire extinguishers throughout its London bus operation.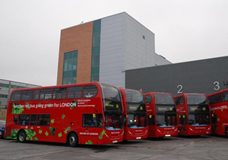 Metroline, which operates 80 routes in the capital with a fleet of 1,200 buses, purchases specialist fire extinguishers from Safelincs for their vehicles. Safelincs also undertakes the annual servicing of all extinguishers on the company's buses. As extinguishers on the remainder of the fleet come to the end of their useful life, Safelincs provides replacements.
"Each time a bus has its MOT, one of our engineers will ensure that that the on-board extinguisher is serviced and, if necessary, replaced," explained Stuart Baxter, Business Development Manager at Safelincs.
Metroline carries 250 million passengers on its buses every year and covers 37.5 million miles with its journeys. "We have a duty of care to ensure that our passengers remain safe," said Nik Phiniefs, Head Buyer for Metroline . "We selected Safelincs because they were very professional and totally transparent in their dealings. There are no hidden charges so we can accurately forecast our expenditure."
All of Safelincs' work is carried out in accordance to BS5306 and certified by BAFE approved engineers.