Early indications are that the deaths of a 36 year old woman and her 10 year old daughter in a boat on Lake Windermere over Easter will be attributed to carbon monoxide.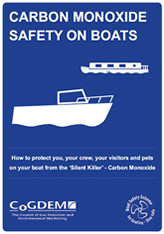 Carbon monoxide build-up in boats is often overlooked, however, with the temperatures as cold as they have been over the last few weeks, many boat owners had to heat their cabins with heating appliances that have not been used for a long time and might not have been serviced for a while. In recent years, escaped flue gases from solid fuel stoves or generator exhaust gases have been responsible for most deaths of boaters from CO poisoning.
To raise awareness about carbon monoxide on boats we worked with the Boat Safety Scheme and CoGDEM  (The Council of Gas Detection and Carbon Monoxide Monitoring) to produce the booklet 'Carbon Monoxide Safety on Boats'.
The booklet can be viewed online, however, if you would like free printed copies, please call 0800 612 6537