Safelincs is very happy to be leading the way by supplying two innovative types of fire extinguisher – the UltraFire Water Mist Extinguisher and the Britannia P50. Both are attracting attention from those with an interest in fire safety. But what are the considerations when deciding which type to buy?
Here we examine the benefits of each type of extinguisher and consider where they might best be utilised.
Water mist
Water mist extinguishers have a supersonic nozzle that disperses microscopic water mist particles to suppress fires and extinguish burning materials quickly and easily. The nature of these particles means that they can be used on just about every type of fire, including electrical fires. The mist is 100% environmentally friendly as it is just de-ionised water. There are no nasty fumes or residue to deal with – it is a clean way of tackling a fire – and the water mist also protects the user from heat.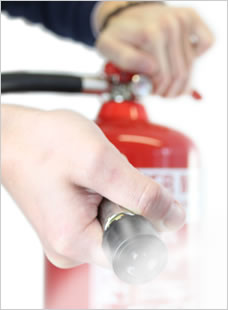 The speed at which the water mist smothers the fire, as demonstrated in this video, is very impressive. The fine mist also suppresses and minimises the acrid smoke generated by the fire.
The water mist extinguisher is proving popular in hotel and restaurant kitchens where small fat fires can be quickly dealt with. But what makes it so appealing is that there are no fumes or residue to clear up. Using a powder or foam extinguisher, even on a minor fire would leave a lot of mess.
This would mean throwing away any food in the vicinity and maybe even having to temporarily close the kitchen, causing inconvenience and loss of revenue.
In a recent hotel fire, a croissant placed in a toaster designed for bread caused a fire to break out. The water mist extinguisher quickly put out the fire and, after it had been inspected and PAT tested, the toaster was put back into service.
The lack of residue also makes these extinguishers popular in museums and heritage buildings. Very often, when fires occur, the process of extinguishing them can cause more damage than the fire itself. In an environment where valuable paintings or artefacts are present the opportunity to install an extinguisher that will minimise residual damage is attractive.
The one litre+ version is fast becoming a favourite for use in the home. The water mist extinguisher will cope with any likely domestic fire and there are no residual fumes that would harm children.
Britannia P50
Where fire extinguishers are installed there is a requirement to have them serviced annually by a qualified engineer – an expensive business.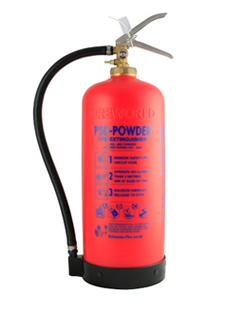 But this is where the Britannia P50 comes into its own. It has been designed so that it requires only an annual inspection which can easily be carried out by a member of staff. (There's even a demonstration video on the Safelincs website). Unlike most extinguishers it does not need refilling after five years. And the P50 is guaranteed for ten years, after which time it can be refilled and used for a further ten years.
So, after the initial outlay, there are no costs for the next ten years
The P50 comes in foam and powder versions so any organisation currently using these types of extinguisher has the opportunity to switch and drastically reduce their bills.
Safelincs is the Church of England's chosen fire safety provider and recently installed eight P50s at St Margaret's Church in Warnham. Previously St Margaret's was paying between £500 and £749 per year for its extinguisher maintenance but will now not have to pay a penny for ten years.
The other significant advantage of the P50 lies in its construction. The main body is a strong composite plastic which is reinforced with the material from which bullet proof vests are made. The metal fittings are brass which means that there is nothing in the extinguisher's make-up that will rust or corrode.
Hence the extinguisher is ideal for outdoor use or anywhere that might be subject to moisture such as farms, swimming pools, oil rigs, wind farms, garage forecourts, railway stations and building sites. And it is very tough and won't dent in the way that metal extinguishers would.
P50 also finds favour with environmentalists, both for it being 100% recyclable when it reaches the end of its life and for the reduction in miles travelled by engineers.
Help is at hand
At Safelincs we believe that both these types of extinguisher offer significant advantages. Our friendly and knowledgeable staff will be happy to discuss further the merits of each extinguisher to help you decide which is best for you.