ParishBuying, the collaborative buying organisation of the Church of England recently carried out a survey throughout its parishes, identifying the annual amounts currently spent on fire extinguisher provision. The survey identified seriously over-inflated prices for extinguisher provision: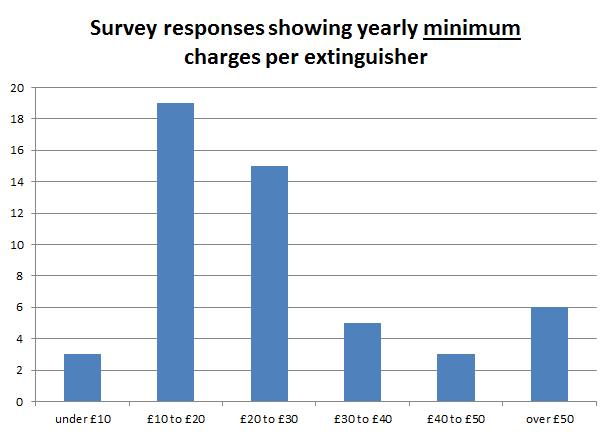 The vast majority of parishes would have saved significant amounts of money by switching servicing of their fire extinguishers to Safelincs who, as the Church of England's chosen fire safety provider, offers ParishBuying customers all-inclusive extinguisher servicing at £7.27+VAT per extinguisher (please note that there is a one-off call-out fee of £21.83+VAT).
These servicing prices are based on the traditional standard steel and aluminium extinguishers, which require yearly servicing and five-yearly refills.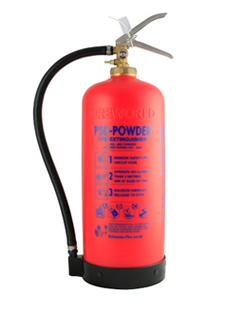 An alternative offered by Safelincs and strongly promoted by the Church of England as a means of saving money and protecting the environment, are the P50 servicing free fire extinguishers. These extinguishers are manufactured in the UK and are made out of a Kevlar-style material and completely corrosion-free. They do not require servicing or refills (unless they are used, of course) for a period of ten years, saving a significant amount of money. Once these extinguishers are installed by Safelincs they only require a very simple visual check once a year by e.g. the Church Warden. The P50 extinguishers are approved by the Ecclesiastical Insurance Group and of course kitemarked. ParishBuying members are offered the P50 (including free site survey, installation, certification and training) for only £94.05+VAT each. Safelincs also offers free replacement of extinguishers damaged in or used on a fire.
One of the parishes participating in the above survey was chosen to receive the P50 extinguishers for free. St Margaret's in Warnham had their eight traditional extinguishers replaced with P50s including, of course, installation, certification and training, which forms part of the standard package with these extinguishers. St Margaret's used to pay between £500 and £749 per year for their extinguisher maintenance and will now not have to pay a penny for ten years.
In the graph below we have visualised the cost savings achieved by St Margaret's changing from metal extinguishers to the servicing free P50 extinguishers, assuming they had not received the P50 extinguishers for free but would have had to pay for them: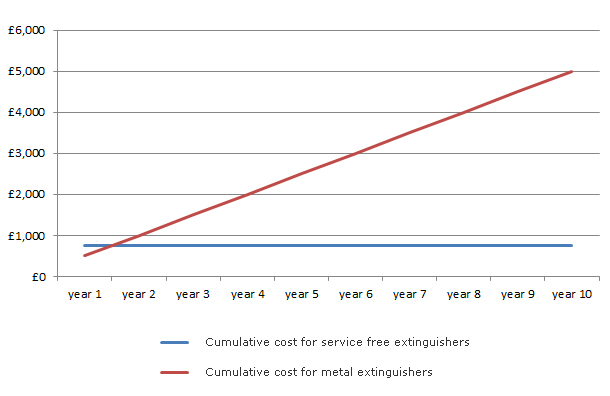 St Margaret's, when thanking for being chosen as the recipient of the free extinguishers, also commented on the professionalism and helpfulness of our engineer and service:
'Everyone at St. Margaret's Warnham is delighted that we are the recipient of the prize draw allowing complete replacement and installation of new extinguishers. We would wish to thank the Directors and, indeed, everyone at Safelincs for their generosity in providing such a splendid prize. As you can imagine the continuing viability of our small village church presents an ongoing struggle so the financial benefits provided through your firm is a great blessing. We would be delighted to assist in any publicity drive as a result of the competition under the Parish Buying banner or in any other way.
Please pass on our grateful thanks to all concerned, in particular to Antony who provided us with  excellent and knowledgeable service.'
More information about Safelincs fire extinguisher servicing can be found here and a description of the P50 extinguishers can be seen here. Please note: To receive the ParishBuying discounts from Safelincs, please register on www.parishbuying.org.uk