The first CO alarms that we sold only had a 5 year sensor life, quiet short in comparison to smoke alarms, which have a 10 year lifespan. Then in 2008, when we started to supply Kirklees Council with well over 100,000 CO alarms, we worked with Kidde, the manufacturer, to achieve a 7 year life span for the CO alarms we supplied. This was a large step forward and achieved significant savings for our customers.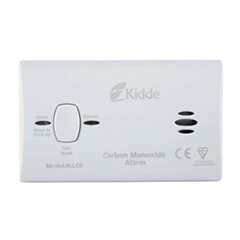 Despite the 7 year lifespan of the CO alarm there was still the issue that batteries in the units had to be changed every year or so, as CO alarms are quite energy hungry.
Now at long last there is a CO alarm that goes much further than this.
We are introducing the brand new Kidde CO alarm 8LLCO with a guaranteed 10 year sensor life and battery life! This is an extra 40% lifespan and a tremendous saving for customers, never having to replace batteries again. The alarm is perfect for landlords, housing associations, Councils and of course anybody who wants to protect their household without having to think about their CO alarms for 10 years. Please note, though, that CO alarms should still be tested regularly.
Safelincs are the first official retailer to introduce this product in the UK before the roll-out in 2013. If you wish to order or have any questions, please ring 0800 612 6537.