Thursday 30th August 2012
The issue of fire doors and fire exits can be confusing for non-professionals in fire safety. If you have to replace some of the doors in your premises with fire doors or you have to improve egress from a building with panic bars on fire exits, it will be helpful to have a clear understanding of the differences between fire doors and fire exits.
A fire door is an internal door, whose purpose is to i) create/protect an escape route through a building in a fire situation; and ii) compartmentalise a fire, to stop flames and smoke spreading from one section of the building to another. Examples of locations of fire doors include stairwells, where they protect the stairs from corridors opening on to them; kitchens/catering facilities, storage areas that house combustible materials such as paper and card, and boiler rooms.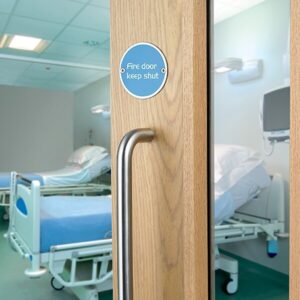 Fire doors have to be kept close at all times unless certified fire door retainers are installed (not just a door wedge!) which hold the fire door open until a fire alarm is set off.
Certified fire doors of solid timber construction are designed to resist the smoke and flames of a fire for a minimum specified length of time, typically 30 minutes (FD30), when closed. Because a fire door is not simply a block of wood in a frame but an assembly of fire resistant parts – door leaf/leaves, door frame, hardware (e.g. locks, latches, hinges, etc), any glazing, smoke/intumescent seals and an automatic closing device – it is also known as a fire doorset.
A fire exit door on the other hand, is an external door; it can be left open and does not have to be fire resistant. The purpose of the fire exit door is to allow a quick and un-hindered escape through a well lit door into a place of safety while stopping un-authorised access from the outside. Fire exits doors should open easily and, wherever possible, in the direction of traffic flow. If it is a security door that is usually kept locked but will be used by members of the public in an emergency situation, it will have to be fitted with a panic or push bar. By enabling the swift passage of people to a place of safety, the final exit door will have performed its function; it does not have to be a fire door to accomplish this. Fire exit doors can also be opened from the outside, if for example a panic bar with a key lock override is fitted. Fire exits must never be obstructed and have to be clearly marked and well lit. Best practice dictates that fire exit signs are fitted above fire exits.