Safelincs supply fire extinguisher maintenance tools to service engineers and to companies carrying out their own extinguisher servicing. This blog describes one of the tools needed for servicing stored pressure extinguishers.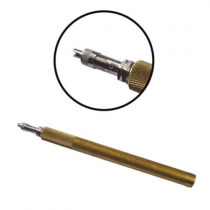 In order to conform to BS5306 requirements, many insurance companies stipulate that fire extinguishers need to be serviced annually.  It is during servicing that engineers may find that the existing fire extinguisher head cap needs to be replaced.  In order to do this, the engineer needs to have a head cap/valve removal bar, which is screwed into the extinguisher hose thread for use.  As hose threads differ according to the make of fire extinguisher, it is important that engineers use the correct removal bar for the fire extinguisher model.
As well as a tool for head cap/valve removal, some extinguisher bars can also be used in conjunction with a nitrogen regulator and hose.  These are known as "recharge bars" as they have the ability to work as an adapter to help re-pressurise the fire extinguisher.
In our range of extinguisher tools we offer head cap/valve removal bars suitable for Firechief, Thomas Glover, Gloria and Jewel Saffire/Ultrafire Redline fire extinguishers.