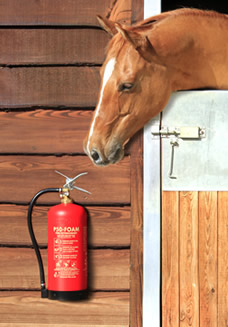 The introduction of the P5010 year self-maintenance extinguisher has opened up many new markets for us.
P50 extinguishers are made from components that are guaranteed not to corrode for 10 years. These properties, which make the extinguisher range well suited for outdoor and wet applications, has enabled us to branch out into food processing, swimming pools and other challenging environments. One specialist application is the equestrian market, a demanding and rugged environment for extinguishers.
Safelincs are now members of The British Horse Society , the largest and most influential equestrian charity in the UK , which works towards the improvement of standards of  horse safety and welfare.  The introduction of our products to their directory now enables their members to access fire safety products that are not only of the highest quality but that also, as in the case of the P50 extinguisher, offer them the robust construction their environment demands.
As the P50 extinguisher is self-maintenance it also offers a huge cost saving. Once purchased you will no longer require an external extinguisher engineer to visit you annually. The simple, visual safety checks required to ensure that the extinguisher is in working order can be carried out by yourself. Instructions and a demonstration of the three simple self-maintenance steps are given when the extinguisher is installed, free of charge.
When our engineers deliver and install the P50 extinguisher free of charge, they will also carry out a free site survey to ensure that you are adequately covered and will confirm so in the certificate that is part of the installation process.