The brand new video database on the Safelincs site not only displays the products (quite often in operation) but also provide answers to some of the most common questions that are received from customers.
Customer service is not just about taking calls and having speedy despatch; it is also about giving the customer all relevant useful information at the click of a button.  Videos are not only a great way to explain a product's features but also guide a customer through a potentially tricky process, such as testing a smoke alarm, replacing a products batteries or linking radio-interlink units to one another.
With the first set of videos being released today, the portfolio should be in its hundreds within the coming months, offering users more information than ever before.
The first products to feature videos include: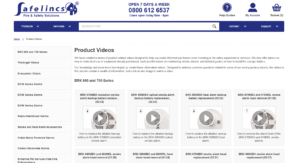 Ei161RC Ionisation Smoke Alarm
Ei151TL Ionisation Smoke Alarm
Ei3100RF Ionisation Smoke Alarm
Ei146 Optical Smoke Alarm
Ei166RC Optical Smoke Alarm
Ei156TLH Optical Smoke Alarm
Ei3105RF Optical Smoke Alarm
Ei144 Heat Alarm
Ei164RC Heat Alarm
Ei154TL Heat Alarm
Ei3103RFU Heat Alarm