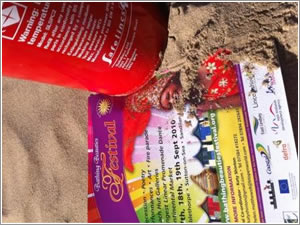 In September Mablethorpe celebrated its annual Beach Festival. The festival holds the title of longest linear coastal art festival in Europe.
A record number of visitors turned out to enjoy the music and crafts provided at the festival, with 25,000 attending. The cultural mix on offer ranged from a theatre on wheels, Shakespeare, local bands and entertainment in the beach huts. The grand finale was a fire parade through the streets of Mablethorpe.
Safelincs were happy to support this event by providing free fire extinguisher cover for the duration of the festival. we would like to congratulate the organisers for a superb event and wish them every success with next year's festival.