At this time of year many people may be looking at booking a holiday or be getting ready to pack their bags in search of some sun. It is so easy to just think about what we need to put in the suitcase and forget about safety issues. A few quick tips may make your holiday a safer one.
Most hotels and B&B accommodations in the UK are equipped with the required smoke alarms and extinguishers to ensure the safety of those staying there. However, this is not always the case, especially in other countries where regulations may be more relaxed.
When you arrive at your destintion look to see if alarms are fitted and where extinguishers are placed. Make sure you know what type of fire extinguishers are installed and what they can be used on. Always establish where the fire exits are and check that they have not been blocked. Check to see if there is a secondary exit out of your hotel room and read the fire safety poster that should be in every room explaining the evacuation procedure.
If you are not happy with the safety standards and the fire protection in the hotel, notify your tour operator or talk to the hotel manager.
You may want to consider taking a portable smoke alarm with you on holiday to place in your room and ideally also a carbon monoxide alarm, which will alert you should there be any carbon monoxide present from gas boilers etc. Even if there is no gas applialce in your room it is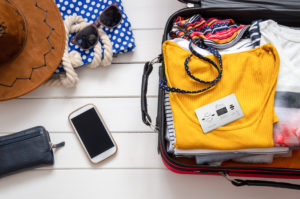 important to remember that carbon monoxide can seep through walls and there may be hidden dangers in adjoining rooms.
If you are traveling with children make sure you have explained to them what they should do if the fire alarms were to go off. Show them the assembly place situated outside the building. Have some fun too, ask them to see how many extinguishers they can find.
Above all, enjoy your holiday and include your impression of fire safety issues in any reviews you may write about the place you stay at.