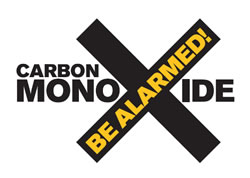 Today is the beginning of the national Carbon Monoxide campaign "Zero Deaths". The project is designed to raise awareness of the dangers from this poisonous gas and the threat it poses to householders. In the UK over the last 2 years, over 800 people have been recorded as being affected by carbon monoxide leaks and 130 of those have lost their lives. Many people do not recognise or report their poisoning, so there are many more people affected by the gas than the above figure suggests.
Carbon monoxide is an odourless, colourless gas that is produced when burning fuel. The most common cause of carbon monoxide poisoning is fuel-burning appliances that are not fitted correctly, leaking the gas when natural fuels such as gas, coal, wood etc. do not completely combust. This is not only dangerous to you but also to your neighbours. Carbon monoxide is capable of leaking through walls and ceilings and can penetrate into other flats or attached homes.
The main signs of carbon monoxide poisoning are light-headedness, headaches, vertigo and flu-like symptoms. If you experience these symptoms, you would be best advised to evacuate the house and contact your gas services.
A few simple ways to protect yourself and your family: