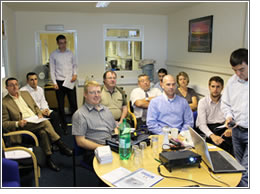 Safelincs held their international meeting last week at their headquarters in Alford, Lincolnshire. The meeting was held over a three day period and provided an opportunity for Safelincs' European partners in Italy, France and Ireland to increase bonds with Safelincs UK as well as providing a platform for training.

During the three days presentations about the individual countries' fire safety markets were made by each partner company and training presentations were delivered by EI Electronics, Kidde, Phoenix and Radal, fire safety suppliers to Safelincs

The event was a great success and guests had some opportunity to enjoy the delights of Lincoln.