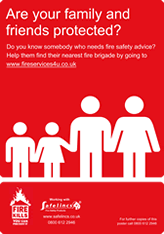 Safelincs are proud to announce that they have been invited to become a stakeholder in the Government's Fire Kills campaign.
The most recent campaign delivered the message 'Pull Your Finger Out' to encourage people to check their smoke alarms more frequently.
To support this message in context with the relatively new online fire safety market, Safelincs will shortly be offering all their customers a free service to remind them when alarm batteries or smoke alarms are due for replacement. An additional weekly/monthly 'have you checked your alarm' reminder service will also be offered.
Safelincs offer a wide range of smoke alarms and a smoke alarm advice section is available.