The most commonly used fire escape ladder in the UK. The ladder hooks over the wall underneath a window and then the chain ladder is deployed. Climbing is easy, as distance pieces on every third rung keep the ladder off the wall, offering you a good foothold.
How do I know if this ladder is suitable for my window?
Tangle-free and sturdy fire escape ladder
Designed for quick & easy deployment
Conveniently stored in cardboard box with carrying-handle
Available in 3 lengths and 3 hook sizes

4.3m (14 ft) for two storey buildings

7.0m (23 ft) for three storey buildings

13.7m (45 ft) for four/five storey buildings

29.2cm (11.5 inch) rung width
Rigorously tested to withstand up to 453.5kg (1000lbs) in weight
Suitable for all standard windows, including Dormer windows
Lifetime limited warranty
In an emergency, the hooks of the ladder are placed over the window sill and the chain is lowered out of the window. The escape ladder is then ready for for your descend. Distance pieces fixed on a number of rungs will keep your feet safely off the wall.
The ladder deploys tangle-free and includes 5 pairs of distance pieces for the 14 ft ladders, or 8 pairs for the 23 foot and 15 pairs for the 45 foot ladders. The distance pieces are screwed on by the customer in positions best suited for the building in question.
Please note that a minimum window opening width of 13" (33cm) is required for the installation of this ladder.
The Saf-Escape ladder selection covers most wall thickness ranges. The hooks come in three sizes to fit up to 10 inch, 10 to 14 inch and 14 to 18 inch wall thickness. However, excessive sill overhangs (more than 3 inches) might lead to an incorrect fit of the ladder. If in doubt, please contact us.
Choosing the right hook size

Measure your wall thickness and choose the adequate hook size

How do I measure my wall thickness ?


Measure distance B - the distance from the inside to the outside of the sill.
Measure distance C & D - the overhangs of your window sill at each side of the wall.
Subtract C & D from B - this will give you your wall thickness (measurement E).
Check measurement A - if this measurement is more than 30mm, the ladder may not fit correctly, please call us for more information.
If you need to contact us for help with your measurements please make a note of measurements F (external window sill height) & G (internal window sill height) along with the previous measurements - we will use these measurements to draw a diagram of your window and test the three different hook sizes against it.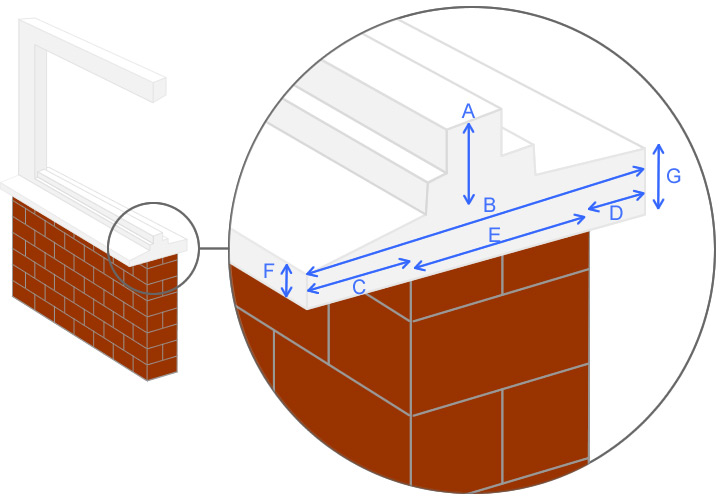 Each Saf-Escape fire escape ladder is built to very high standards, and comes with a Limited Lifetime Guarantee. Download the Instructions on how to use the Saf-escape Ladder

Box Dimensions & Weights


| | | | |
| --- | --- | --- | --- |
| Length | Wall Thickness | Box Dimensions | Weight |
| 14ft | up to 10" | 120x410x620mm | 7.5kg |
| 14ft | 10 - 14" | 120x410x620mm | 8kg |
| 14ft | 14 - 18" | 120x410x720mm | 8kg |
| 23ft | up to 10" | 120x410x620mm | 10.5kg |
| 23ft | 10 - 14" | 120x410x620mm | 11kg |
| 23ft | 14 - 18" | 120x410x720mm | 11kg |
| 45ft | up to 10" | 150x410x620mm | 16.5kg |
| 45ft | 10 - 14" | 150x410x620mm | 17kg |
| 45ft | 14 - 18" | 150x410x720mm | 17kg |
Q. Is the Saf-Escape suitable for a Velux window?
A. We would not recommend this ladder for a Velux window application. The Rollo Roll-Out ladder and the EasyScape ladder are better suited. They have a fire retardant backing that enables them to be deployed from the Velux window without tangling.
Q. Does the Saf-Escape ladder have distance pieces for each rung?
A. No, the Saf-Escape ladder is supplied with enough distance pieces for every third rung. It is important that when you receive the ladder you calculate where your windows are and attach the distance pieces to the rung above and below the window. This prevents the windows being broken during use of the ladder.
Q. What type of fire escape ladder is suitable for use with small children and pets?
A. To be able to carry small children and pets down an escape ladder you would require a child harness or pet harness. These harnesses are suitable for use with all the escape ladders. The escape ladder that is most suitable for use with small children is the externally fixed Saffold ladder. If you would like a portable fire escape ladder suitable for children the X-It ladder offers the most stability. The Amigo ladder is very easy to deploy for children and has strong, wide steps, which help to descend safely.
Q. What can I do if I am unsure which Saf-Escape hook size I need after taking all the measurements?
A. If you are unsure which hook size you require because one measurement may be more than indicated on the diagram, please e-mail us your dimensions.
Q. Can the Saf-Escape ladder be fixed to a window where there is no internal window sill?
A. Yes, the design of the Saf-Escape ladder does not require any sill to attach to. The hooks anchor on the wall below the sill on both the internal and external wall.
Customer Reviews
All our reviews are written by real customers that have purchased this product from us and are publsihed without modification.
Show All Reviews