The Ei 2110 is a multi-sensor fire alarm that contains two separate sensing elements – optical and heat detection. As the unit monitors two different by-products of fires (smoke and temperature), its response to all types of fire is vastly improved over traditional single sensor alarms. It is also less prone to false alarms.
Suitable for living rooms, bedrooms, hallway, landings (not suitable for kitchen or garage)
230V Hard-wired smoke and heat alarm
Multiple sensor elements - optical and heat detectors
Unique dust compensation feature (The alarm automatically adjusts for any contamination within the optical sensor chamber)
Kitemarked to BS EN 14604:2005
Suitable for installations complying to BS 5839-6: 2013 Grade D, E and F
CE Marked
5 year guarantee
Tamper-proof rechargeable 10 year lithium battery back-up
Advanced suppression and calibration technology reduces risk of false alarms to absolute minimum
Low battery warning
Test/Hush button
Easy-fit base
A maximum of 12 units can be interconnected
Supplied with fixings; 2 x screws and 2 x rawl plugs
Alarms that can be interconnected with include:
Remote control capability using the Ei1529RC
The table below shows all the units that can interconnect with the EI2110.
Compatible Alarms
| | | |
| --- | --- | --- |
| Model Number | Type of unit | Type of interconnection |
| Ei161RC | Ionisation Alarm | Hard wire using 3 core interconnection cable |
| Ei164RC | Heat Alarm | Hard wire using 3 core interconnection cable |
| Ei166RC | Optical Alarm | Hard wire using 3 core interconnection cable |
Ancillary Products
| | | |
| --- | --- | --- |
| Model Number | Type of unit | Type of interconnection |
| Y03 | Multi Frequency Sounder | Hard wire using 3 core interconnection cable |
| MCP401RC | Manual Call Point | Hard wire using 3 core interconnection cable |
| Ei1529RC | Smoke alarm Locate, Hush and Remote test switch | Hard wire using 3 core interconnection cable |
Wiring Explained
The Ei2110 multi-sensor alarm requires a 230V AC mains power supply. Up to 12 Ei2110 and Ei160 series of alarms can be hard wire interconnected on one circuit.
To obtain a mains feed, the first alarm can be connected to the nearest lighting circuit using 2 core and earth cable. From this alarm, 3 core and earth cable is required for all additional alarms, which allows for the hard wire interconnection to work. Please see the diagram below:-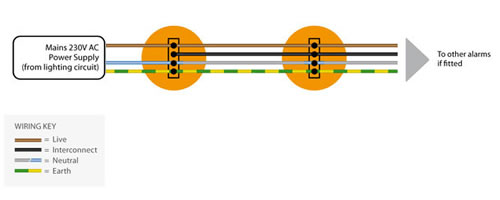 Alternatively, the alarms can be hard wired using a dedicated circuit from the distribution board.
This is the technical data for the Mains Powered Combined Optical Smoke and Heat Alarm with Lithium Back-up Battery - Ei2110.
| | |
| --- | --- |
| Product Code | EI2110 |
| Weight | 0.32kg |
| Dimensions (HxDia) | 64x147mm |
| Back-Up Battery | 10 year sealed lithium cell |
| Sound Output | 85dB (minimum) at 3m |
| Temperature Range | 0°C to 40°C |
| Humidity Range | 15% to 95% Relative Humidity |
Technical Data Sheets
The following technical data sheets are available for this product:
Q. For mains powered Aico smoke and heat alarms, when the electricity supply fails and the back up battery takes over, please can you tell me how long the battery will last in this situation?
A. For mains powered Aico alarms with a new, fully charged lithium back up battery, the battery would last approx. 3-6 months without a mains supply. For mains powered Aico alarms with a standard alkaline back up battery, the battery would last up to a year without mains supply. If the alarm has been installed with an Ei168RC radio frequency base, please note that the Ei168RC back up battery would last approx 2 months if the power fails.
Q. Does this alarm conform to BS 5446 part 1 as recommended by the Fire Service?
A. This recommendation has been superseded by BS 14604:2005. All of our smoke and heat alarms conform to this standard in accordance with the Kitemark.
Q. Can the mains powered smoke alarm range be connected to mains power via the lighting circuit?
A. Yes, hard-wired mains powered alarms can be wired to the unswitched live feed of the nearest frequently used lighting circuit.
Q. Does the Ei2110 multi sensor model need to be fitted by a qualified electrician?
A. We would always recommend a qualified electrician to fit these mains powered smoke alarms for you .
Q. What sort of smoke alarm system would I need to install for a HMO?
A. BS 5839-6 recommends that one or two storey HMOs with an individual floor area of no more than 200sqm (not the total of both floors) should have a Grade D smoke alarm system installed. Grade D refers to mains powered smoke alarms with a back up battery power supply. The alarms can be interlinked either by wire or by radio signal and the system does not require a separate fire alarm panel. For HMOs of 3 storey or higher, a Grade A panel system would need to be installed. This can cover the whole of the building, or can be used just for the communal areas with a separate Grade D system installed for the individual dwellings. For both applications, the level of cover should be a minimum of LD3 (in all escape routes) but this may change according to the fire risk assessment.
Show all FAQs
Customer Reviews
All our reviews are written by real customers that have purchased this product from us and are publsihed without modification.
Show All Reviews