Mailsafe? Anti-Arson letterboxes are the solution to the ever increasing crime of arson. Mailsafe will contain, detect and extinguish a fire in less than 15 seconds, before it has the chance to spread. Discretely placed within the letterbox is the Mailsafe Fire Extinguishing System. The fire extinguisher activates automatically when a fire raises the internal temperature of the letterbox. The Mailsafe extinguisher is a sealed thermosensitive polymer tube filled with the ozone friendly extinguishant FE-25. Mailsafe is simple to fit and has been designed to be fitted against the back of a standard letter plate.
The Mailsafe has been tested by Warrington Fire Research to determine the performance, when exposed to a series of ignition sources, each of which was designed to represent a potential method of arson attack.
The tests demonstrate that the 'Mailsafe' mailbox can successfully contain an arson attack and can provide significant protection against a serious fire developing within a building. If the mailbox had not been present, all of the potential arson attacks considered in the series of tests could have caused ignition of the contents behind the door (e.g. ignition of a floorcovering) and could have caused a major fire to develop.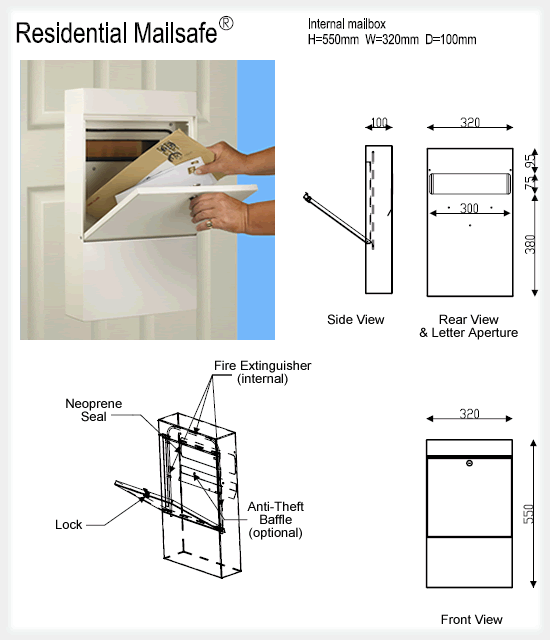 This is the technical data for the Mailsafe Anti-Arson Mailbox with extinguisher.
| | |
| --- | --- |
| Product Code | TSBOX01 |
| Weight | 7.10kg |
Q. Just looking at the Mailsafe Anti-Arson Mailbox with extinguisher. The description says comes supplied with an optional anti-theft baffle to stop theft through the letterbox. Doe this mean this stops people putting their hand in your mailbox and stealing the mail?
A. Yes, the anti-theft baffle is designed to help prevent people from the outside stealing your mail either by hand or with a theft device.
Customer Reviews
8 customers have rated this product and it has an overall rating of 4.5 out of 5
All our reviews are written by real customers that have purchased this product from us and are publsihed without modification.
Reviewed by: -
Good quality product but there is scope of improvement. It arrived on time, well packed so no issues there but after looking at the design carefully I observed that the lock should have been placed in a way that its not accessible from the letter plate from outside. Guys if you are reading then please fix it.
Published on: 12th December 2013
Reviewed by: -
Nice compact unit for tight entrances. Does inhibit some sizes of post so letters/ magazines wont drop in but stick out of the letterbox. Easy to install and use.
Published on: 6th December 2013
Reviewed by: -
Very easy to fit and surprisingly attractive and unobtrusive considering what it is and the purpose it serves.
Published on: 23rd June 2011
Customer didn't leave a rating
Reviewed by: -
Paid for next day delivery as we were desperate for the mailbox as we had been let down by the company we were supposed to buy from, Simply Mailboxes. We were very pleased with the service, thank you.
Published on: 7th February 2011
Reviewed by: -
It is well made and relatively slimline. It does not look unattractive, as I thought it might do. It has certainly given me peace of mind.
Published on: 7th February 2011
Customer didn't leave a rating
Reviewed by: -
excellent efficient and helpful
Published on: 9th September 2010
Show All Reviews