Intumescent Material
Intumescent materials are a core component of passive fire protection, and can be categorised as substances that swell when exposed to heat. This reaction is used to great effect in order to seal penetrations in otherwise fire resistant walls, floors and ceilings.
The expansion of intumescent materials in the event of a fire ensures that smoke and flames are contained, and helps maintain the compartmentalisation of a building.
Every service that is installed in a building, such as water pipes, electrical sockets, cable trunking and lighting units can compromise the fire resistance of a room by creating openings in its walls, floor or ceiling. The role of intumescent products is to seal the gaps these penetrations create should the worst happen and fire break out.
All products designed to fulfil this criteria are fire rated, i.e. certified to resist fire for a specified length of time, which can be anything from 30 minutes to 4 hours. When selecting intumescent products, take care to ensure that they have been certified to the relevant standards, and meet your specific fire resistance needs.
There are a variety of compounds that can be used in intumescent products, and different scenarios require different approaches. In basic terms intumescent materials can be divided into those with high and those with low expansion pressure.
An intumescent material with high expansion pressure would be capable of crushing a plastic pipe passing through a wall. This type of intumescent material is generally used in products such as pipe collars. A material with low expansion pressure is more suited to filling larger gaps, and would be more commonly found in products such as fire pillows.
Although technically not intumescent, as that term specifically refers to items that swell when exposed to heat, products such as fire resistant batt are often grouped with intumescent products. Fire resistant batt is manufactured with a mineral fibre core, and coated on both sides with fire resistant mastic. Rather than expanding, this product transforms into a highly fire resistant ceramic when exposed to heat, and is specifically designed to seal service penetrations which tend to be of a larger size than penetrations covered by classic intumescent products.
The images below show classic examples of the likely usage of fire resistant batt and pipe collars.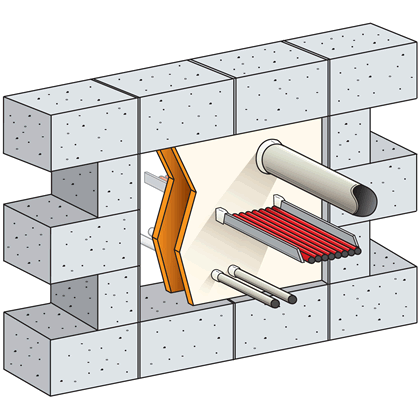 Figure 1.
This diagram shows an example of a standard installation of fire resistant batt.
Used to maintain fire protection in areas where larger penetrations in compartment wall are necessary, fire proof batt is commonly installed in areas that remain out of sight.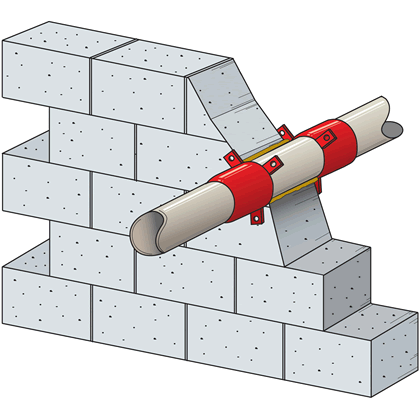 Figure 2.
This diagram shows an example of pipe collars protecting a hole that has been made in an otherwise fire resistant block wall.
If a fire were to reach these collars, they are designed to swell and crush the pipe sealing the hole that would be left if the pipe simply melted.
Safelincs sell a wide range of intumescent products, all tested to the relevant British Standards. The most commonly cited standard in relation to intumescent materials is BS476-20:1987, as it defines the 'Method for determination of the fire resistance of elements of construction'. All of the intumescent materials we sell clearly display the minimum fire resistance period achieved by the product, which allows you to easily identify products suitable for your project.
Below you will find examples of some of the intumescent products we sell, as well as a brief synopsis of the role they play in protecting property.
Surface-mounted Fire Door Seal Kits - 60 minute - Fire and Smoke
Fire door seals are designed to help create a complete seal between fire doors and their frames.
This prevents the passage of smoke and flames, maintaining the fire rating of your fire doors. Retrofit fire door seals
Suitable if no rebate for seals exists in the fire door
Intumescent strip plus smoke brush
60 minute fire and smoke (FD60)
From: £20.99 ex VAT
£25.19 inc VAT
View Product
Fire Rated Intumescent Air Transfer Grilles
Intumescent air transfer grilles help prevent the passage of hot gasses or flames throughout a building in the event of a fire.
When exposed to heat, these grills are designed to swell and seal ventilation points that could otherwise allow smoke and flames to pass. 60 minute fire protection (for both sides of a wall or door)
System is maintenance free and easy to install
Faceplates are available in a choice of three powder coated finishes
From: £16.39 ex VAT
£19.67 inc VAT
View Product