The Ei140RC series of mains powered smoke and heat alarms conform with BS 5839 part 6, grade D, as required for extensions, 2 storey HMOs and small businesses. Supplied with an alkaline back up battery and an "easi-fit" base, the Ei140RC series can be interconnected using 3 core and earth cable. This means when one alarm is activated, it triggers all the other interconnected alarms and sounds those ones too. The Ei140 series succeeds the discontinued Ei130 series smoke alarms.
Ionisation and optical smoke alarms Kitemarked to BSEN14604:2005
Heat alarm Kitemarked to BS 5446-2:2003
Suitable for installations complying to BS 5839-6: 2013 Grade D, E and F
230V AC Mains powered with alkaline back up battery
Available in three versions:

Ionisation smoke alarm (Ei141) for fast-flaming fires - used on landings, offices
Optical smoke alarm (photo-electric) (Ei146), responds faster to smouldering fires - used in bedrooms, living rooms, hallways
Heat alarm (Ei144)- used in kitchens and garages

Test/Hush button facility
Ei140 series alarms can be interconnected with cable (or wireless if purchased with with radio-interlink base)
5 year guarantee
This is the latest Ei140"RC" series of detectors - now capable of interconnecting with the Ei1529RC remote control switch
The table below shows all the units that can interconnect with the EI140 series.
Alarms from the same series
| | | |
| --- | --- | --- |
| Model Number | Type of unit | Type of interconnection |
| Ei141 | Ionisation Alarm | Hard wire interconnect |
| Ei144 | Heat Alarm | Hard wire interconnect |
| Ei146 | Optical Alarm | Hard wire interconnect |
Ancillary Products
| | | |
| --- | --- | --- |
| Model Number | Type of unit | Type of interconnection |
| Y03 | Multi Frequency Sounder | Hard wire interconnect |
| MCP401RC | Manual Call Point | Hard wire interconnect |
| Ei1529RC | Smoke alarm Locate, Hush and Remote Test Switch | Hard wire Interconnect |
| SAB300C | Mains Powered Flashing Strobe - Clear | Hard wire interconnect |
| SAB300R | Mains Powered Flashing Strobe - Red | Hard wire interconnect |
Wiring Explained
The Ei140 series of smoke and heat alarms require a 230V AC mains power supply. Up to 12 alarms can be hard wire interconnected on one circuit.
To obtain a mains feed, the first alarm can be connected to the nearest lighting circuit using 2 core and earth cable. From this alarm, 3 core and earth cable is required for all additional alarms, which allows for the hard wire interconnection to work. Please see the diagram below:-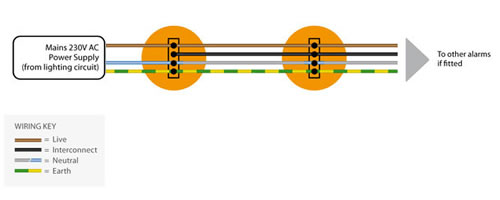 Alternatively, the alarms can be hard wired using a dedicated circuit from the distribution board.
This is the technical data for the Aico Mains Powered Smoke Alarms with Alkaline Back-up Battery Ei140 Series .
Dimensions (HxDia)
Ionisation: 40x145mm
Optical: 50x152mm
Heat: 52x145mm
Back-Up Battery
9V Alkaline
Sound Output
85dB (minimum) at 3m
Humidity Range
15% to 95% Relative Humidity
Operating Temperature
0 to 40°C
Technical Data Sheets
The following technical data sheets are available for this product:
Q. For mains powered Aico smoke and heat alarms, when the electricity supply fails and the back up battery takes over, please can you tell me how long the battery will last in this situation?
A. For mains powered Aico alarms with a new, fully charged lithium back up battery, the battery would last approx. 3-6 months without a mains supply. For mains powered Aico alarms with a standard alkaline back up battery, the battery would last up to a year without mains supply. If the alarm has been installed with an Ei168RC radio frequency base, please note that the Ei168RC back up battery would last approx 2 months if the power fails.
Q. My detector does not have "RC" stated at the end of the code. What does this stand for?
A. The RC just refers to "Remote Control" as the unit can be fitted to a radio-frequency base for interconnection. The model hasn't changed but the manufacturers changed the product code slightly in reference to this.
Q. Does this alarm conform to BS 5446 part 1 as recommended by the Fire Service?
A. This recommendation has been superseded by BS 14604:2005. All of our smoke and heat alarms conform to this standard in accordance with the Kitemark.
Q. Can I upgrade an existing Ei140 series base with a Ei160 series smoke alarm?
A. Yes, the bases for the Ei140 and Ei160 series are identical units and are interchangeable.
Q. How do you wire in the Ei140/Ei160 series of smoke alarms?
A. To wire the units correctly you would use 2 core and earth cable to the first unit and 3 core and earth to the interconnected units. The alarms do not have to be earthed but a brass screw connector is provided so that the earth can be safety terminated.
Show all FAQs
Customer Reviews
All our reviews are written by real customers that have purchased this product from us and are publsihed without modification.
Show All Reviews